Well known talk show host and six-time New York Times best-selling author Dr. Mehmet Oz has been a controversial figure at times within the holistic health community, but one thing's for sure: he's not afraid to tackle some of the most important issues the mainstream media would never touch.
Dr. Oz made waves on Sept. 22 with an episode discussing the looming and potentially devastating approval of the new Dow Enlist weed control system for genetically modified crops, one that could blanket the United States' crop fields and fill its skies with a new generation of highly toxic pesticides containing 2-4-D, a chemical used in the infamous Agent Orange mixture that was sprayed during the Vietnam War and later banned by the U.S. government.
Currently, the approval of 2-4-D has just one final hurdle: President Barack Obama, who has the ability to deny the Environmental Protection Agency's approval of the crops.
Dr. Oz, who often touches on topics relating to the holistic health and pro-organic communities while inviting guests like Dr. Joseph Mercola and other big names from the industry to his show, has let his fans down at times in the past. For example in 2012 he said organic foods are well worth the money for the benefit of avoiding pesticides, but then followed the statement up less than two months later by calling organic foods "elitist" in a Time Magazine interview.
In the case of his Sept. 22 show, however, he did not mince words when it came to delivering a strong condemnation of the EPA's decision on 2-4-D crops, even ending with a "show first" encouraging his fans to join the movement before it's too late.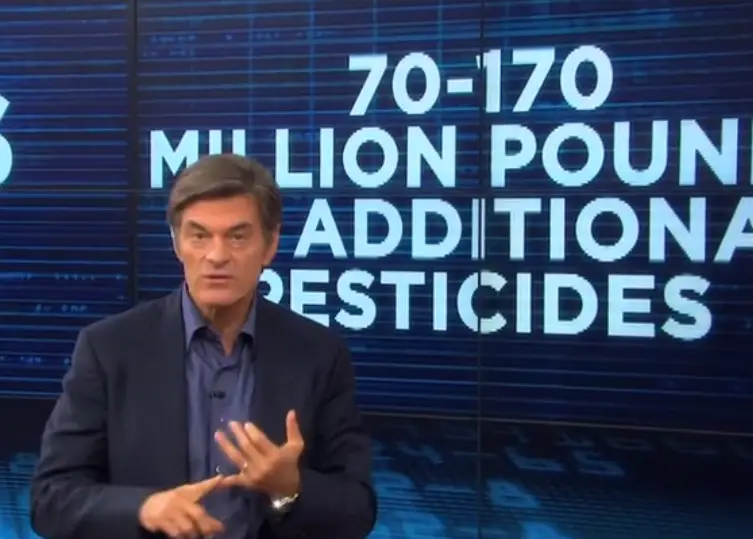 Dr. Mehmet Oz is urging his fans to sign a new petition to stop "Agent Orange" GMO crops as soon as possible.
"Challenging the Food Industry, the Chemical Industry and the Government" 
In the nearly 15-minute segment aired nationally on ABC at 10 a.m. ET, Oz launched into a highly informative presentation and discussion on the crops that included Q&A sessions with experts as well as some bold proclamations.
"What I'm about to show you is going to challenge the food industry, the chemical industry and the government," Oz said, calling it the new "GMO pesticide arms race."
"The EPA is on the brink of approving a brand new toxic pesticide you don't know about, the latest and most disturbing development in one of the biggest food controversies of the 21st century, GMO foods." 
Oz went on to explain the basics of current GMO crops like corn and soy, which are lab-engineered (a process much different than traditional breeding) to survive chemical sprays like the pesticide glyphosate in Roundup, for example. Demonstrating the process to his New York City-based audience on the big screen, Oz noted that weeds get "smart" over time and become "superweeds" resistant to such chemicals, hence the ongoing need to improve stronger and more toxic ones like 2-4-D in order to keep the "chemical treadmill" going.
The "next generation" of these chemicals could be on the way after the EPA failed to be swayed by over 500,000 signatures against 2-4-D crops, which included a letter from 35 prominent doctors and researchers against them. 

In the letter, the researchers highlighted increased risks of Parkinson's Disease, Alzheimer's and non-Hodgkin's Lymphoma as key concerns related to the pending use of these chemicals. Currently, between 70 to 80 percent of all food Americans eat is genetically modified, and 1.2 billion pounds of pesticides is being used on these crops.
Now, an additional 70-170 million pounds of pesticides could be added to this toxic load if President Obama chooses not to deny the request (see the petition to Obama here).
Advocates Speak Out Against New "Agent Orange" Crops
First up on the show was Zen Honeycutt, the founder and director of Moms Across America, who shared a personal story about pesticide exposure.
"For a long time I didn't know that pesticides may be affecting my children, in fact they had rashes and severe allergies for years but then I learned that not only were GMOs sprayed with pesticides but I learned that non-GMO foods were as well," she told Oz.
"I learned that glyphosate kills gut bacteria and I instinctively knew that had to have something to do with my children's health issues."
Honeycutt, whose organization works to spread awareness on GMO and pesticide health hazards, said that she switched to not only GMO-free but also organic food and her children's health improved.
She added that doctors do not currently test for glyphosate, but her decision to get her kids tested at a private lab found that her son had levels in his urine at eight times higher than has been found anywhere in Europe.
He developed onset of autism symptoms before the switch to organic helped put an end to them, and the level of glyphosate in his system was no longer detectable after the change in diet. 
Toxicologist Admits Concern with New GMOs 
Also on the show were author Mark Bittman and toxicologist Dr. Kenneth Ramos; Bittman questioned the promises by the biotechnology industry which have not come to fruition yet.
"Yields are not up, pesticide and herbicide use is not down (editor's note: farm chemical use is actually up)  and that was the promise of GMOs, so when you talk about feeding a hungry world, (GMOs) haven't moved us in that direction."
Ramos was asked by Oz whether parents should be concerned about pesticide exposure as Honeycutt has been.
He said that the majority of science shows that pesticides are "overwhelmingly safe" and also called the new 2-4-D crops not new but a "combination of pesticides."
But later on, he didn't exactly sound confident about their safety and admitted his own concern with them.
"How can you ensure families that they're not going to be exposed to these pesticides when it's so hard to keep nature contained?" Oz asked him after demonstrating how pesticide drift works.
"It's a valid question and I think one we all need to be concerned with," Ramos said. "I think one very important component of the argument is that the EPA is calling for continued, repeated monitoring of this process so that in case the evidence is not pointing in the right direction measures can be taken to correct the problem."
Oz responded with concern of his own.
"But that subjects our entire nation to one massive experiment…I hear these words that we're going to continue to survey, but what happens to kids, so a decade from now we'll apologize but in the meantime I'm very concerned that we're in the beginning of a catastrophe, one that we don't have to subject ourselves to." 
Thousands of Kids Within 200 Feet of "Agent Orange" Crops
Environmental Working Group Executive Director Heather White also joined Oz, discussing the organization's stance against the crops. A study by the EWG found that over 5,000 schools nationwide are within 200 feet of GMO farm drift zones. 
"This new toxic herbicide will coat soy and corn across the country and become the raw materials for the packaged food we eat, as a mom I'm especially concerned about elementary schools within this toxic spray zone."
Oz contacted Dow Agrosciences for the story, and the Michigan-based GMO and chemical giant said that the new Enlist weed control system is "designed to address needs of the modern agricultural industry as farmers today struggle to control weeds that impact the food supply while respecting the safety of both people and the environment."
The EPA also responded to an Oz request to comment, saying that the approval is based on the "best science and state of the art data."
But Dr. Oz and many hundreds of thousands of health-conscious remain unconvinced.
A Dr. Oz Show First: Petition Signatures Needed
"I don't feel confident as a scientist, a physician about what we've been getting ourselves into," Dr Oz said about the continued approvals of chemicals and GMOs despite widespread public and expert condemnation. "
"America, we are running out of time…the only thing between this pesticide and your kids is the President of the United States and that's why I'm asking you; I've never asked you before, (but) I'm asking you to sign a Take Part petition to urge the president to stop (the EPA's approval of the Enlist system)."
While the last round of signatures was not effective at swaying the EPA, this time around there's a tangible goal that could have a big payoff: President Obama must respond to the petition if it reaches 100,000 signatures.
To view or sign the petition, you can click on this link.
You can also listen to an interview with Carol van Strum, author of the book 'A Bitter Fog: Herbicides and Human Rights,' about the concerns with 2-4-D by watching the video below (it was shared in this article by the Seattle Post-Intelligencer).
Editors note: Click here to Find a Local Farmer
A quick note from our founder-
Over the past year, my friend Dave at PaleoHacks has been working on a secret cookbook with world-renowned Le Cordon Bleu chef Peter Servold.
Well, today this new this new incredible Paleo Cookbook is finally available to be shipped right to your door for FREE
That's right -- as a special launch promotion, we're offering our brand new Paleo fat loss cookbook to you for free (Chef Pete lost 60 lbs using these recipes!) -- All you have to do is just cover a small shipping cost (international shipping is a bit more).
Get your FREE copy of Paleo Eats Here. (Grab this today, because we only ordered a small batch of these cookbooks for this freebie promotion, and they will sell out FAST!)
Help us create more awareness! Please share this article...
---
FREE BOOK DOWNLOAD (Limited Offer)
Turmeric Fights Inflammation and Cancer:
Learn These 7 Easy Ways To Eat (and Drink) It
"Turmeric is one of the Most Powerful Natural Medicines Known to Man"
Yes, Send Me My Free Book
&nbsp
---
Do You Know Your Body's Most Important Weight Loss Secret?
By J. Davis III
Category: HEALTH
Tags: HEALING | HEALTHY FATS | REMEDIES
Recently, Doctor of Naturopathy, weight-loss expert and best-selling Amazon author Liz Swann Miller, creator of the Red Smoothie Detox Factor, revealed 2 of the secrets to easy, steady weight loss. Secrets the big food corporations do their best to hide from us.
Secret #1: Enjoy real food. Don't fall for the lie that you have to deprive yourself to lose weight.
Secret #2: stop eating out. You will automatically eat less without even noticing.
Then start detoxing your body with tasty, nourishing smoothies that are just as easy on your wallet as they are easy to make.
Because a single day of enjoying Liz' smoothies demonstrated the radical power of her superfood-packed red smoothies to make me feel incredibly good.
Now prepare yourself for one of the biggest weight loss secrets there is. A secret that, when you use it properly, can transform your body and your health.
You probably know most of us eat too much processed food. What you may not know is that it's full of toxic chemicals and substandard, dirt-cheap ingredients designed to make you eat more…and force you to gain weight.
Here's how it works...
"That stuff is just a lot of calories your body can't use," Liz told me, "Some are poison. And all these foods are stripped of the anti-oxidants and anti-inflammatories that help your body detox. The result? Your body expends huge amounts of calories to eliminate some toxins—the rest, it stores in your fat to protect you. This is why most people are hungry all the time. They're not getting energy they need."
"So… what's going on with me? Why am I losing weight but not going hungry?"
Liz paused, then dropped the bombshell.
Your body is designed to burn fat. You just have to let it.
"What? I thought we were designed to store fat?!?" We were Skyping and I was practically shouting. Then I heard Liz say…
What good is a fat reserve if you can't burn it?
Mind blown...
Liz continued: "You're drinking smoothies packed with phytonutrients, anti-oxidants and anti-inflammatories that pull toxins out of you like a tractor beam. Allowing your body to burn those toxin-filled fat stores… and releasing tremendous amounts of stored energy."
So that's why I'm losing weight without going hungry.
Watch Liz' free presentation. It's packed with revolutionary weight loss information—information that works. Because it's based on how nature works.
Click the button below only if you want to wear smaller clothes, breathe easier, move more freely and just plain feel better.
Because when you click here to watch Liz' life-changing presentation, you'll learn
Which calories help you lose weight…and which ones help you gain it…
The "diet" foods…some of them vegetables…that lead to weight gain and diabetes…
The "low-fat" foods that can dramatically increase your risk of cancer.
And the superfoods that rescue your body from this assault by detoxing you…
Revitalizing your metabolism so you can
Shed pounds as well as toxins, renew your body and reset your internal clock by up to 7 years.
For next the week only, Liz is offering the Red Smoothie Detox Factor at 50% off.
Because until now, the Red Smoothie Detox Factor has been available only to Liz' private clients. But now that she's perfected it to work for almost everyone, almost every time, Liz is sharing it with rest of us so we can feel better and look better.
So if you're sick and tired of feeling sick and tired, do yourself a favor.
Get Red Smoothie Detox Factor before the price goes back up.
Because Liz offers a ridiculously good guarantee. You have 60 days to decide you love the Red Smoothie Detox Factor. If you don't love it—for any reason, or even no reason at all —Liz will refund your money. 100%. No questions asked.
So go watch her presentation and get the Red Smoothie Detox Factor.
---> Learn more: Red Smoothie Detox
---
Natural Diabetes Treatment Works Better Than Prescription Drugs *PROOF*
By Richard Neal
Category: HEALTH
Tags: HEALING | REMEDIES | PREVENTION
According the latest statistics, diagnosed and undiagnosed diabetes in the United States is reaching epidemic levels:
Total: 29.1 million people or 9.3% of the population have diabetes.
Diagnosed: 21.0 million people.
Undiagnosed: 8.1 million people (27.8% of people with diabetes are undiagnosed).
Source: CDC Website
Drugs Treat Symptoms, Not Disease
Pharmaceutical companies have been trying to shut these doctors down simply for revealing the truth about diabetes.
Scientific studies have proven that type 2 diabetes can be reversed naturally - but this information has been hidden and suppressed for decades.
Diabetics can normalize blood sugar, and be taken off all medication and insulin injections completely naturally.
Doctors at the International Council for Truth in Medicine are revealing the truth about diabetes in a shocking new online presentation.
In 3 Weeks, 71% Type 2 Diabetics Were Taken off ALL Medication
96% of patients were able to stop all insulin injections and 81% achieved complete relief of painful neuropathy.
Groundbreaking research published by the University of Kentucky, University of California and Newscastle University prove that type 2 diabetes CAN be reversed.
Blood sugar normalizes... neuropathy pain goes away...
Doctors at the International Council for Truth in Medicine have perfected these techniques and helped tens of thousands of their patients end the need for medication and insulin injections 100% naturally.
You don't have to suffer anymore, Learn the truth about your diabetes and stop this disease dead in its tracks right now.
Groundbreaking New Research
Doctors at the International Council for Truth in Medicine are revealing the truth about diabetes that has been suppressed for over 21 years.
Last year they helped over 17,542 type 2 diabetics end the need for prescription drugs, insulin injections and blood sugar monitoring.
This year they're on track to help over 30,000.
In just a few weeks, 96% of their patients are able to stop ALL diabetes medication and insulin injections.
No more neuropathy pain, pricking your finger, or the need for expensive medication.
Learn about this groundbreaking new research here:
---> Learn more about this Natural Diabetes Treatment
---
#1 muscle that eliminates joint and back pain, anxiety and looking fat
By J. Davis III
Category: HEALTH
Tags: HEALING | PREVENTION
I bet you can't guess which muscle in your body is the #1 muscle that eliminates joint and back pain, anxiety and looking fat.
This "hidden survival muscle" in your body will boost your energy levels, immune system, sexual function, strength and athletic performance when unlocked.
If this "hidden" most powerful primal muscle is healthy, we are healthy.
Is it:

a) Abs
b) Chest
c) Glutes
d) Hip Flexors
Take the quiz above and see if you got the correct answer!
P.S. Make sure you check out the next page to get to know the 10 simple moves that will bring vitality back into your life!

==> Click here to discover which "hidden survival muscle" will help you boost your energy levels, immune system, sexual function, strength and athletic performance permanently!
---
More Health Resources: