You're kids don't like vegetables?
Really? Cuz mine are constantly begging for them.
"Mommy, PLEASE can we have more of your kale and beet salad?" they plead.
And if I had a nickel for every time they fought over who got more roasted broccoli and cauliflower at dinner I'd be a gazillionaire.
Kidding.  I'm totally lying.  My kids hate vegetables!
Well, they like a few vegetables, but not enough to make me happy so I've come up with a few sneaky ways to get them to eat – and sometimes even like – more vegetables without them even noticing.
1. Feed them to them in front of the TV.
This is probably Bad Parenting 101, but my kids, like most people I know, have a bad habit of eating mindlessly while sitting in front of the TV.
I have decided to use this against them.
When they come home from school and plop themselves in front of the TV, rather than give them crackers or chips to eat, I shove a bowl full of chopped up veggies into their hands.  Mine don't even notice and just start munching.
2. Hide them in smoothies.
This one is pretty obvious and works better for those who can overlook – or even embrace – a green coloured beverage (Happy St. Patty's Day anyone?).  I personally love a green smoothie and my daughter will tolerate one every now and then but my son? No way.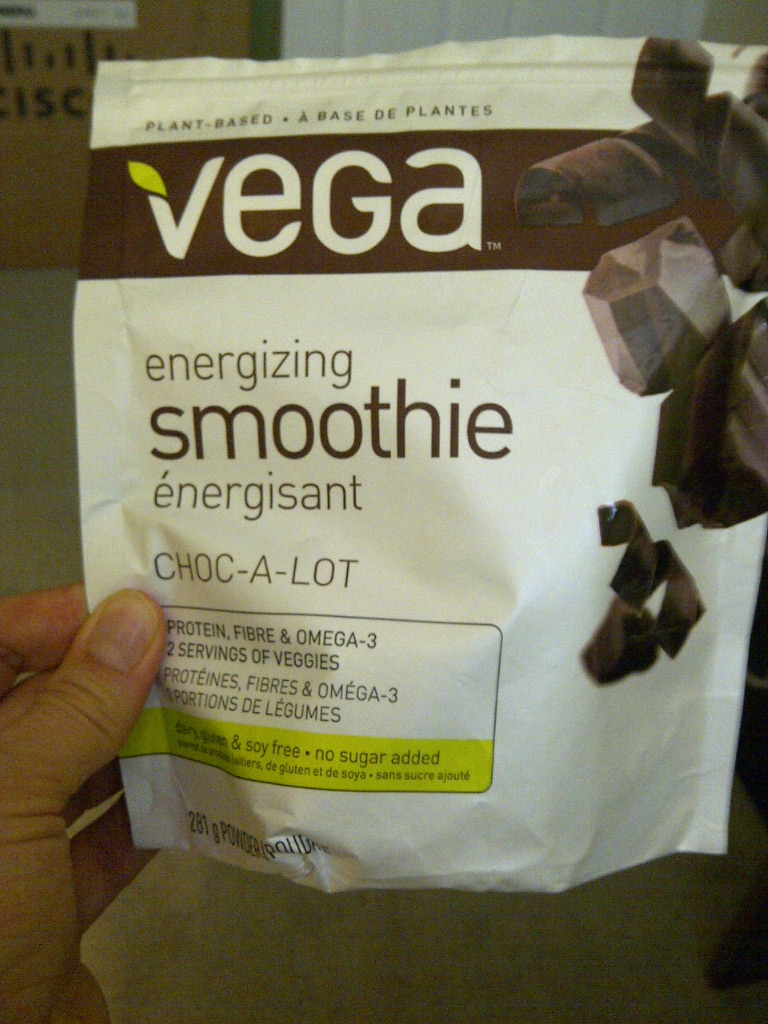 However, as with all things in life, you add chocolate and all is right with the world!
For my kids I make up a smoothie with unsweetened almond or rice milk, half a frozen banana, a handful of fresh spinach (I try to do this when they're not looking) and a big scoop of Choc-a-Lot Energizing Smoothie powder by Vega.
The Vega products pack a great nutritional punch with 10 grams of protein per scoop plus some essential fatty acids, a little extra green blend and some digestive enzymes to make the tummy happy.  They are sweetened with stevia which is a great, all natural sweetener which doesn't raise your blood sugar.
I personally don't like the taste of stevia, but my kids love it and it makes it possible for me to get them to drink spinach so I'm a fan.
3. Hide them in dessert.
Now, this isn't going to work with all veggies and I'm not suggesting that a slice of carrot cake is going to cut it in place of a serving of fresh vegetables, but sometimes you have to take what you can get.
For example, pigs would literally fly before I would be able to get my kids to eat an avocado.  But add some raw cacao, maple syrup and vanilla, throw it all in the Blendtec and, voila, I have a "chocolate pudding" that they will beg me for at the end of the night.
In keeping with the avocado theme, this frozen cake is my daughter's absolute favourite.  She even requested it for her birthday cake last year and even her guests loved it (we didn't tell anyone that they were eating avocados).
4. Take them to a farmer's market and let them pick their own.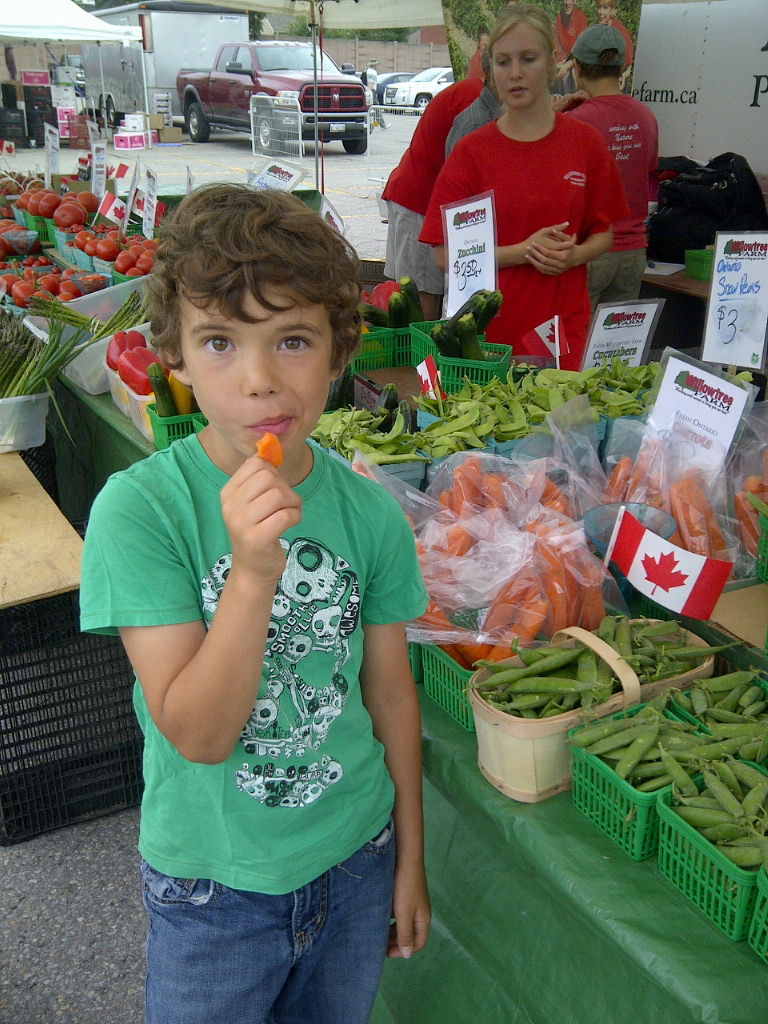 Give your kids some control over the veggies they do eat.
Today I took my son to our local Farmer's Market and suddenly my usually veggie-hating little guy was a veggie sommelier!   He was pointing out to me which carrots looked the best, he was sampling fresh peas and sweet cucumber.  He picked out a few things that he wanted to take home, I gave him the money and he bought them and carried them back with us and now he can't wait to eat them with dinner!
Click here for the Top 10 Reasons to Bring your Kids to the Farmers Market
5. Think Outside the Box and Make Them Fun
For some reason if I try to give my son slices of red pepper, he wants none of it, but if I wash the pepper, pull out the seeds and give him the whole thing, he thinks it's hilarious and awesome all at the same time.  Fill it with water first to make a "Pepper Cup" that he can drink out of and then eat and he's over the moon!